Yoga and Sadhana require you to be comfortable and at ease before starting out. Thus, the success of your yogic practices depends on your choice of clothing in many ways. One such modern clothing is the Dhoti Pant!
In this Beginner's Guide to Dhoti Pants, we'll take you from the history of Dhotis to their transformation into the modern-day Dhoti Pants. We'll also discuss the importance of Dhoti Pants and how they differ from Lungis and Traditional Dhotis. Finally, we'll also have a look at the various types of Dhoti Pants offered by Isha Life. 
Wondering if Dhoti Pants are good for doing Yoga and Sadhana? Should you switch to Dhoti Pants? Are they really worth all the hype? Well, let's dive right into the article to find out!
Where Does Dhoti Come From?
The word dhoti is derived from the Sanskrit word 'dhauta' which means to cleanse, wash, or purify. It basically signifies a clean cloth that you wear regularly. Though the exact origins of Dhoti are not clearly established, the earliest usage of Dhotis dates back to the 5th Century BC.
The book Epic India by Chintaman Vinayak Vaidya (Page 140) clearly states that Dhoti was the attire of the Indo-Aryan males and everyone from the prince to the peasant wore dhotis around their waist!
Dhoti, also known as veshti, is the ethnic attire of men in India. It is an unstitched cloth of roughly 4.5 meters worn around the lower body, usually made of cotton or silk. However, dhoti was more commonly made of cotton back then, as it was a convenient and breathable fabric for daily usage.
You'll find dhoti being worn in different ways across the Indian states. It's traditionally worn with a kurta. Cream and white dhoti pants are quite popular. Dhoti, when worn, looked similar to baggy trousers. All you had to do was simply wrap it around your waist and legs and tie it on the front or the back. But this process was a struggle in itself!
To solve this problem, we have a modern and improvised version of Dhoti called Dhoti Pants. It's a fusion of Dhoti and Pants, which basically suggests a combination of comfort with fashion! This ready-to-wear garment is gaining a lot of popularity among men, women, and kids these days. Let's know more about it below.
Who Wears a Dhoti?
Dhoti has its origins in South Asia, which makes it a very popular choice for men belonging to South Asia. Apart from that, Dhoti is worn by men during traditional ceremonies and rituals like weddings, etc.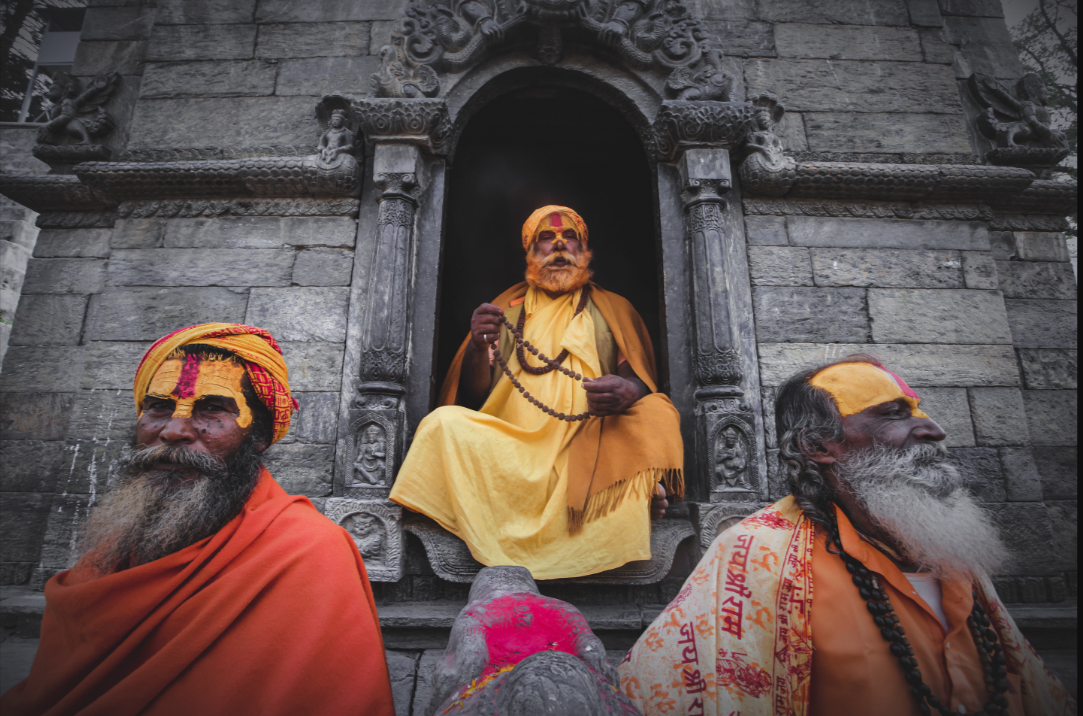 Spiritual practitioners like yogis and sadhakas are often seen wearing Dhotis as well. Occasionally, you'll also find politicians wearing a white Dhoti in India as a mark of dignity and commanding respect.
Is Dhoti a Formal Wear?
Yes, Dhoti is considered formal wear among Indians. However, not all dhotis can be identified as formal wear. Usually, dhotis that are made of silk and decorated with embroidered borders are perceived as formal garments. They're mostly observed in wedding ceremonies and religious rituals.
Whereas, dhotis made of cotton are usually considered casual wear. You'll find men in Southern India donning them everywhere, from home to markets to casual strolls! 
What is the Difference Between Lungi, Dhoti, and Dhoti Pants?
People often get confused between Lungi, Dhoti, and Dhoti Pants. These are three different types of garments with stark differences between them. The table below displays the major differences between them.
| Dhoti | Lungi | Dhoti Pants |
| --- | --- | --- |
| Complex Draping Process | Easy Draping Process | Easy Draping Process |
| Unstitched | Stitched vertically | Completely stitched |
| White, off-white, cream, & saffron | Lots of colours & patterns | Lots of colours & patterns |
| Worn at formal events | Worn as casual home clothing | Worn as semiformal & casual wear |
Traditional Indian dhoti was an unstitched piece of cloth that you had to tie around your waist. It was available in solid colours, mostly white, off-white, saffron, and cream.
Tying a dhoti was a somewhat typical, detailed, and clunky process that not everyone could follow. The result was a shabbily draped dhoti that didn't appear elegant or feel comfortable on your body.
Similarly, Lungi is a piece of cloth stitched vertically and is worn as a casual clothing at home. It's available in a lot of patterns and prints.
Well, to spare you the trouble of draping a dhoti or lungi, Dhoti Pant is here! This is a ready-made garment that is loose around the waist and keeps narrowing down to your ankles. It has lots of pleats on the waist, making it baggy, spacious, and hence comfortable around the thighs. 
Dhoti Pants either come with an elastic band or drawstrings to tightly secure them around your waist. Honestly, this is such a cool and comfy garment because it lets your entire lower body breathe. The best part is that it's available in a variety of vibrant colours and patterns that make it a desirable outfit for all generations and genders!
Ultimately, the kind of clothing you wear has a huge impact on your life. Check out this video where Sadhguru explains why you should opt for garments made out of natural and organic materials.
What Can You Do Wearing Dhoti Pants?
Quite simply, there's nothing you cannot do wearing Dhoti Pants. (Unless you've got to deliver a business presentation before corporates! That'd be a little awkward!)
But apart from that, there's so much you can do while wearing Yoga Dhoti Pants. For instance,
Do you enjoy trekking? To make your experience even more enjoyable, you can try Dhoti Pants. Being soft, comfortable, and loose-fitting, they allow maximum body movement along with keeping you free from sweat!
If your routine consists of jogging or exercising regularly, replacing your joggers with Dhoti Pants might help! It would provide enhanced airiness and flexibility to your movements and result in a more relaxed exercising routine. Unlike jeans, you can easily walk, bend, and run wearing dhoti pants.
Yoga requires you to hold a posture for long intervals of time. This might be difficult when you're wearing restricted clothing. Dhoti Pants allow easy body movement with minimum constrictions. This helps in performing yoga asanas and many hatha yoga poses with ease that seems impossible with normal yoga pants.
Attending Wedding Ceremonies
Due to their formal design that exudes elegance, Dhoti Pants can also be worn at wedding ceremonies and religious rituals. Unlike Dhotis with their complex draping process, you can simply don a pair of graceful dhoti pants with kurta and you're ready to roll!
When you're in Sadhana, you need to stay still in a single position for long durations. Dhoti Pants help in offering much-needed breathability and comfort to your body for a successful meditation session. 

Dhoti Pants as Summer Wear
Summer is a beautiful and the most-awaited season in India. But it also brings along sweaty t-shirts, body rashes, and incessant itching! The best way to counter this is to switch to a comfy attire. Dhoti Pants are absolutely delightful as summer clothing. Why, you ask?
Well, one of the most significant reasons is that Dhoti Pants are a loose-fitting piece of clothing. Unlike body-hugging garments, Dhoti Pants are loose and airy. They also let your body breathe and give it enough room for movement.
Being a modern avatar of Dhotis, Dhoti Pants are a versatile garment that fits all sizes. It also isn't targeted at a specific gender, which makes it an equally popular pick across all generations and genders. Thus, Dhoti Pants qualify as one of the most comfortable bottom-wear for summer.

What are Isha Dhoti Pants Made From?
Dhoti Pants available on Isha Life are made from Certified Organic Cotton that is grown without the use of any toxic chemicals, fertilizers, and pesticides. These are 100% natural cotton fibres highly beneficial for your body and overall system.
| Isha's Signature Unisex Dhoti Pants | 100% Organic Cotton Dhoti Pants for Women | Shivanga Panchakacham Dhoti Pants for Men |
| --- | --- | --- |
| Made of Certified Organic Cotton | Made of Certified Organic Cotton | Made of Certified Organic Cotton |
| Elastic Fit and Drawstrings Fastener | Drawstrings Fastener | Elastic Fit and Drawstrings Fastener |
| Multiple Colors | Black, White, Off White Colors | Orange and Green colors |
| Solid Print | Solid Print | Solid with Shivanga print along borders |
They are free-flowing, breathable, and highly comfortable for your skin. You can spot almost everyone at Isha Life wearing these cotton Dhoti Pants!

Dhoti Pants Reviews
Planning to get a Dhoti Pant for yourself as well? This video review created by one of our customers will help you get a better idea about our Isha Dhoti Pants.
They not only appreciated the quality, comfort, and durability of our Dhoti Pants but also recommended them if you wanted to wear a lightweight Dhoti without investing any time on the draping!

Conclusion
Dhoti Pants have brought a revolution in the clothing industry by making traditional Indian Dhoti fashionable! Today, you'll find men, women, youngsters, and even kids wearing them- thanks to their comfort and flexibility. This piece of clothing may prove to be ideal for undisturbed sadhana and yogic practices along with being a comfortable wear for everyday use.
We hope this article helped you understand the origins of Dhoti and how it eventually led to the creation of Dhoti Pants. Have you ever worn Yoga Dhoti Pants for your yoga or meditation sessions? How has your experience been? And would you prefer Dhoti Pants over normal pants?